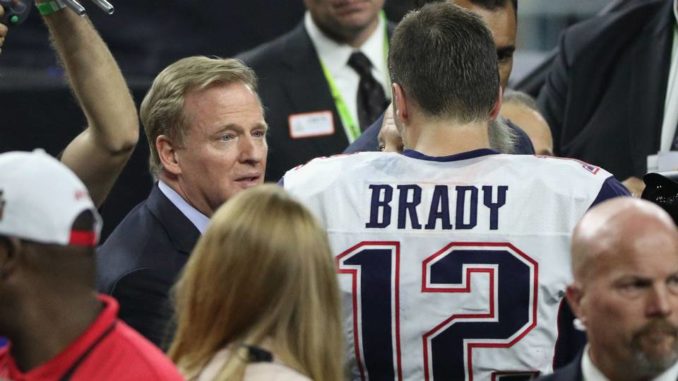 The office of NFL Commissioner Roger Goodell has announced that New England Patriots quarterback, and Super Bowl LI MVP, Tom Brady will be suspended for the first six games of the 2017-2018 season.
The punishment is in response to the "profanity-laced tirade" unleashed by Brady in the press conference following the Super Bowl victory.   "There was a lot of s— that happened tonight," said Brady. "I got hit a lot."
"The integrity of the game is the most important thing," Goodell said. "The integrity of the game is something we will always protect. The rules apply to everybody. That is my job in particular, to make sure everyone from our players to our coach, to our fans and our partners, that they all recognize we're going to play by these sets of rules, and that's part of our values and standards."
Goodell noted that Brady's status as a repeat offender merited the harsh penalty.
Tom Brady was unavailable for comment.  His schedule today included a puppy rescue with the Foxboro chapter of the ASPCA, a visit with pediatric cancer patients at the Dana Farber Cancer Institute, and dinner with the twenty-four Syrian refugees currently living in his Boston home.