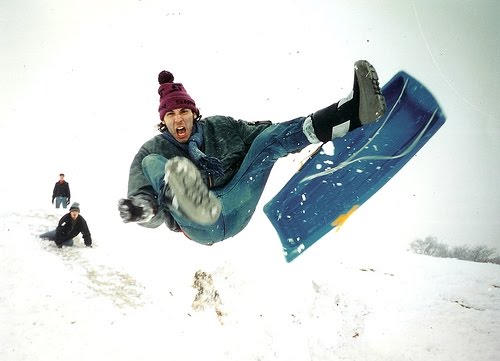 The popular sledding hill at Downey Park was unavailable earlier this week after John Walpole, 43, took over the child-friendly recreation area with a 1980's throwback performance of flying saucer snow sled dominance.  The recently-divorced, unemployed father-of-two performed some of his favorite moves including The Electric Slide, The Running Man and Hammer Time.  "Can't touch this!" screamed Walpole as he knocked Ethan Wells, 9, into the recently-erected 'Sled at Your Own Risk' sign.
Dwarfing a group of 7-year-olds around him, the formerly-athletic Walpole sprinted back to the top of the hill for another run where he jumped the protective bales of straw at the bottom of the hill before slamming into a Honda Odyssey owned by Meghan Andrews, 28. "I was hoping to take my 2-year-old Liam for his first sled ride today," said Andrews. "But all the children are too terrified to try."
"That was totally gnarly, dude," shrieked Walpole. "I'm coming back tomorrow with my Snurfer!"
From the Yeehaw Junction Parks Department:
When sledding or snow tubing, make sure there is snow on the hill.
Choose a hill that has a clear path without any lawsuit-generating obstacles.
Make sure the hill doesn't end on a road, body of water, or in a dangerous neighborhood.
Don't slide downhill headfirst—sit upright facing forward or stand awkwardly.
It's best to use a sled with sharp runners and a steering mechanism rather than a toboggan, snow disk or lunch tray.
Don't slide on rubber, plastic sheets or small children that can be pierced by objects.
Make sure no one is at the bottom of the hill before sledding down.
Don't Drink and Slide.