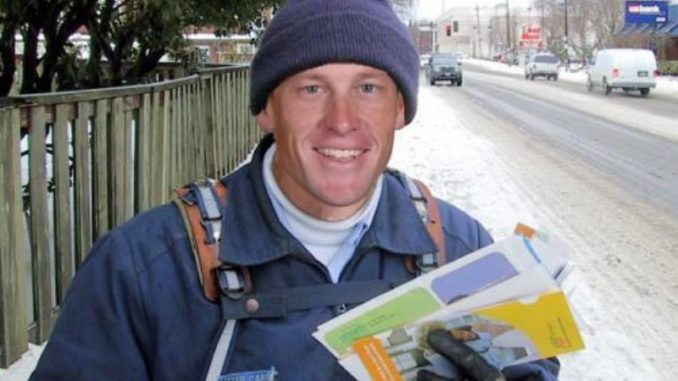 Washington, DC (TDP) – Attorneys for the U.S. Justice Department announced that they have reached a settlement with former Tour de France champion Lance Armstrong in their $100 million civil fraud lawsuit against him.  The federal government was suing Armstrong on behalf of the U.S. Postal Service, which paid over $30 million to sponsor Armstrong's cycling team from 2000 to 2004, alleging that his admitted doping defrauded the USPS.
Under terms of the settlement, Armstrong has agreed to sign a 5-year employment contract to serve as a U.S. Postal Service Mail Carrier in Austin, Texas.  "I've always had great respect for the men in blue," commented the Livestrong founder.  "I can't wait to get back out there on the bike and deliver for the Postal Service once again!"
"I'm not sure Lance realizes what a physical job this is," stated Postal Service Regional Supervisor Stephen Myers.  "Collecting, sorting and delivering the mail to its final destination, oftentimes on foot, in all types of weather.  This isn't just about looking sharp in the uniform."  Postal officials also noted that the job requires a pre-employment physical which includes mandatory drug screening.  "I have never failed a drug test!" declared Armstrong noting, however, that he is still unclear on the proper use of ZIP Codes.
Federal officials are pleased that justice has been served.  "We are delighted that our work on behalf of the taxpayers of this country over the past four years has resulted in such an historic settlement," stated the press release.  "Let this be a lesson to anyone out there — you take money from the United States Government, travel to Europe and win the Tour de France seven times, we're coming after you!"
Armstrong will not be riding solo, however, as the settlement states that he will be joined by former USPS teammates George Hincapie, Tyler Hamilton, and Levi Leipheimer.  "We hauled his doped ass up L'Alpe D'huez, Mount Ventoux and Col du Tourmalet," remarked Hincapie, "I'm sure we can help him deliver some junk mail."
Former USPS teammate Floyd Landis, as a "whistleblower" in the government's case against Armstrong, is entitled to a 1/4 share of all lawsuit proceeds.  As a result of the settlement, Landis, himself stripped of a Tour de France title because of cheating, is set to receive a 'L'il Posty' starter stamp collection kit, a 'Salute to Mennonites' commemorative panel, and a signed copy of his own book, 'Positively False – The Real Story of How I Won the Tour de France'.