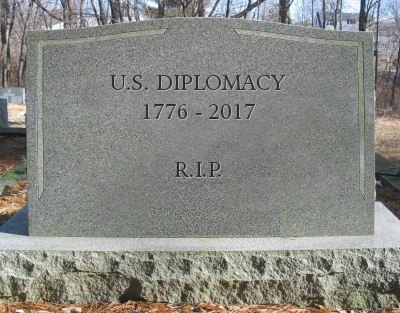 Washington, DC (TDP) – U.S. Diplomacy, a tenet of our nation since its birth, died at home in Washington, D.C. this week, surrounded by family and friends.  He was 240.
Born in Philadelphia in 1776, Diplomacy was instrumental in the formation of the United States and its growth into an industrial, economic, and military world power.  Friends cited his perseverance and adaptiveness in enduring two world wars, civil war, recession, depression, cold war, and dozens of armed conflicts around the globe.  He loyally served 44 presidents and 69 secretaries of state, while dealing with wide-ranging global issues such as weapons proliferation, human rights, health crises, the environment, refugees and migration, democracy and humanitarian aid.  He was instrumental in successfully negotiating peace treaties, fighting dictators, and protecting the interests of the United States around the world.  He will be missed.
Associates say Diplomacy took a turn for the worse sometime in early November and was diagnosed with a terminal illness on January 20th.  "We were hoping things would stabilize, but the tumor kept growing back as quickly as it was cut it out," commented an anonymous source.  Under the care of Steve 'Race' Bannon, Diplomacy was taken off life support and died shortly thereafter.  News of his passing has been confirmed repeatedly on Twitter via @realDonaldTrump.
U.S. Diplomacy was pre-deceased in 2017 by Class and Dignity and is survived by a single offspring, Hope.